Burn Unit :: Jon Olsen
Welcome to Olsen web galleries (2.0, natch)
So I don't know why it took so long, but
I have a flickr account
and I've started uploading pictures to it. This is a nice, simple, intelligent way to manage all the dang photos we take. When Eleanor was born, Jon and Leann took something like 400 photos in the first year. Since Henry's been born, we're probably on pace to beat that number. But it was always hard to share those because I was slow and thoughtless about doing web updates. Well,
flickr
makes it easier.
There's even sets, with sensible divisions (Eleanor, Henry, etc). Here's the link to my sets. Keep watching the skies
Even bigger news than earlier item below
Henry Stark Olsen, the second child of Jon and Leann Olsen, entered the world via caesarian section at North Memorial Hospital (same hospital his mother was born in) June 21, 2007 at 834 a.m. Weighing in at 8 pounds 6 ounces and 20.5 inches, Henry is pretty much the exact same size his big sister Eleanor was at birth--to the ounce! He is so beautiful! You should see for yourself at this quick
Image Gallery
Jon set up the next day! Thanks to all family and friends and blessings!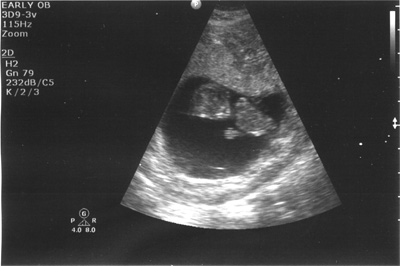 Big Jon and Leann Olsen news
We're expecting! June 26th, 2007 is the anticipated due date of Olsen Offspring 2.0.
The fetus is quick
(I expect my mother would like to know this fact, so I include it) and seems to get excited when Leann eats cake, surprising no one. We are in debates about names. The boy's name is settled. Henry Stark (surely some Olsen, Smith, and Dahl family readers will recognize the relative import of these names, as will fans of Shakespeare, Iron Man comics, and proper old time country music). But if this one is also a girl, we are discombobulated, though not quite fractured. We both like Ivy, Rosalind, Linnea, and to a lesser and unlikely extent Amelia. Jon also favors Charity, Chastity, Dakotah and... ok, I'm kidding about those! Leann favors Waverley and Jon is still guarded/ambivalent. Jon likes Lily but has generally lost steam around that name. Elizabeth, Amelianne, and of course Jon's much-lauded Eowyn have been considered and are still in the top 40 or so. Jon begins to understand his mother's reluctance to name some of her babies before leaving the hospital! Eleanor was consulted and said we should use the name Twinkle. Or Qbert. She also came up with Maraya (Marea?), which is nice, but not for us so much. (Google has since taught us about the Fiat Marea car, and Maraya the "power metal band" both of which disincline Jon to the name)
Quick notes: Winter of Jon Olsen's discontent, here; and I suppose Leann would characterize it as a little too sickly and disruptive (that in terms of house-related projects) for her taste as well. I've been railing against what I perceive to be the excesses of Current Occupant and his band of Flying Monkeys over in my livejournal lately. If you're a family member (like my mother), or a person with sensitive ears, or you're at work, you might want to turn away. In related news, the next generation of Olsen interest in politics, as well as the next generation of Minnesota political activism is well represented on our family page where you see Olsens for Klobuchar in action! Hoo yah. In unrelated news, I'm working hard to keep/catch up with school work, but I'm balancing that with the family life. Casa del Olsen is getting new flooring, so our kitchen is moving (lurching sort of) ever closer to some kind of mythical ideal. I feel like we're on the junk, sometimes. Like we'll never be satisfied until an Olsen home shows up in BH&G or something. Nah. It's awesome. it's fun. I love having a kitchen that we can relax and enjoy. We're going to have to get better stools in there though. And redo the baseboards. And get a better fridge. And maybe that pot rack we discussed. And a better vanity in the half bath. And... oh crap it's happening again...
Promises promises, Jon. I know I know. We keep saying there'll be pictures, but this time it's for real! Almost. Eleanor had school pictures recently, and Leann ordered some. So keep watching the skies for scans of the photos. And some of you will be getting your own prints, I assure you.